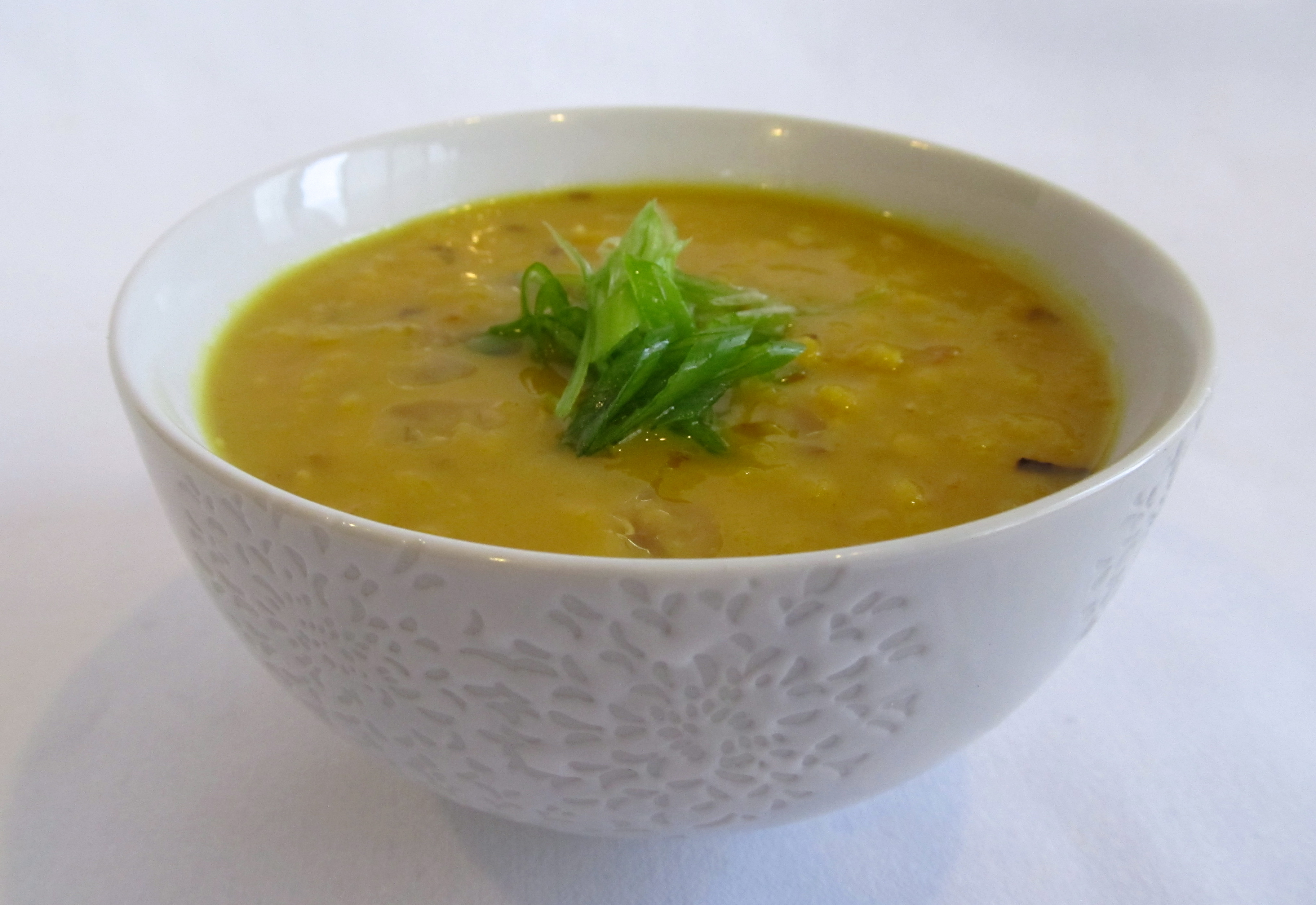 Turmeric & Cumin Red Lentils
Yield: 4- 8oz bowls
Ingredients
1 cup red lentils
4 cups water
1 small onion, minced
4 teaspoons ghee
3/4 teaspoon turmeric
1 teaspoon cumin
2 teaspoons garlic, minced
Himalayan pink salt to taste
sliced scallions, for garish if desired
**Vegan Turmeric & Cumin Red Lentils: This recipe can be made vegan by simply substituting vegetable oil instead of ghee.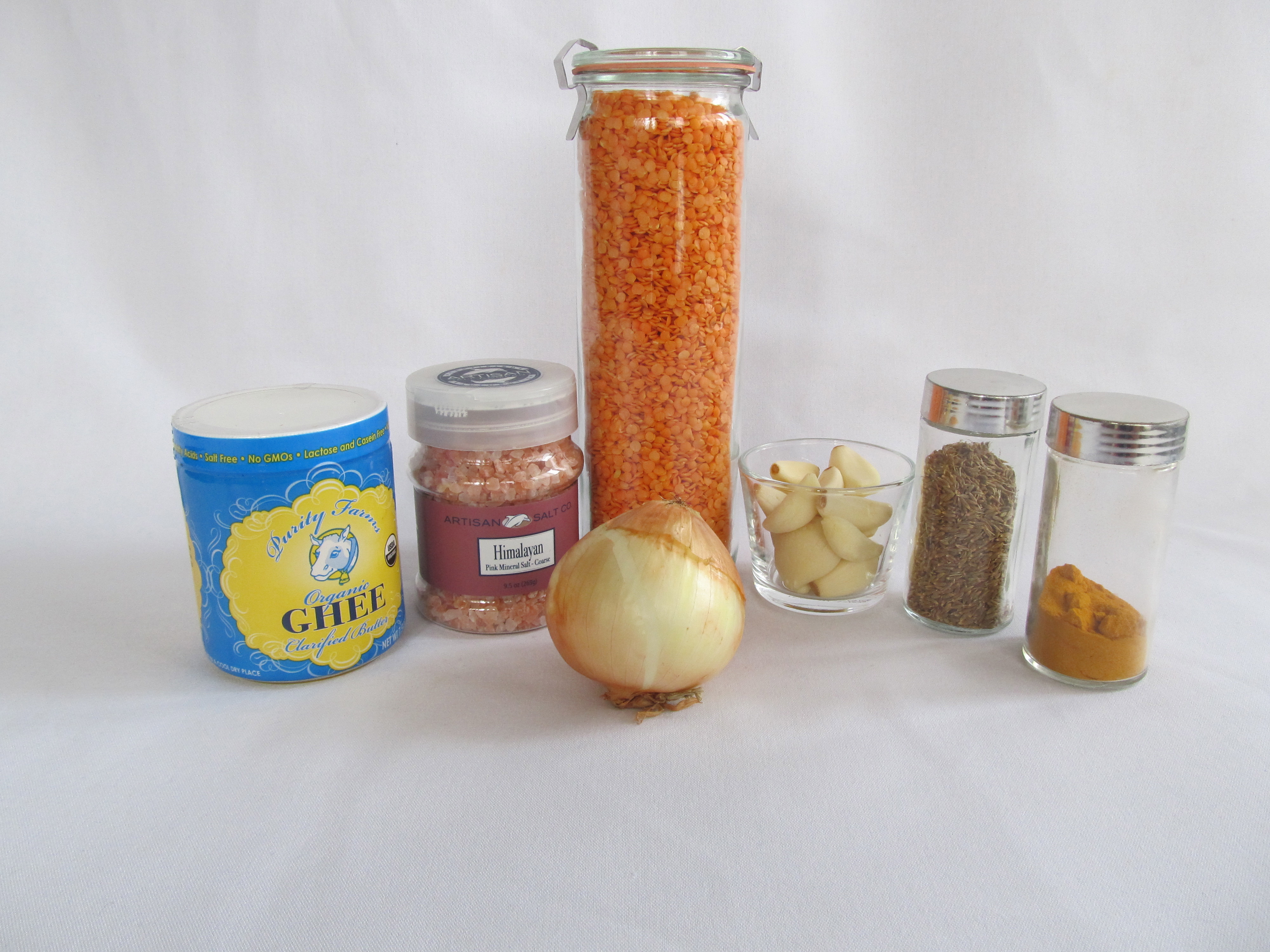 I love this recipe for a few reasons. A good friend of mine, Sumati, shared a similar rendition of this recipe with me during our graduate studies. And yes, it's the same Sumati from Community Culture and Cuisine New Delhi. I remember we were in her small Paris dorm room studio. She taught me an Indian cooking technic that changed my lentil life. This recipe is really is her recipe, or at least how I remember it, except she uses a lot less onions and there are no real measurements.  The garlic is toasted until it is golden brown and the cumin seeds are also toasted in ghee, and then these are added to the lentils after they are cooked. This is the major seasoning component, giving the lentils a slight nutty flavor. So thank you Sumati for sharing this with me and all the joy and laughter we have shared over great food!
Other reasons why this is an awesome recipe:
Protein
Lentils are a great source of protein, along with many other pulses and legumes. For this particular recipe there are about 13 grams of protein in an 8oz serving. If I'm looking for a healthy and delicious meal after a workout I love having this with a nice salad. And since you should have some form of protein 30 minutes after working out, to help build muscle, this is a great option.
Turmeric
It is known to have some anti-cancer properties. It has been said to prevent and slow the grown of certain types of cancer. It is also known for its anti-inflammatory properties. For more check out what the American Cancer Society has to say about it. Turmeric is a great addition to morning smoothies and shakes. It can be found in powder form and fresh. When peeling fresh turmeric use a metal spoon. This is the same technique I use when peeling ginger.
Cumin Seeds
Cumin, another spice that researchers have looked at for its possible ability to fight cancer, because of the high levels of antioxidants it contains. It is great for digestive problems and it has also been suggested that black cumin seeds are great for migraines. Ayurvedic  medicine has been promoting cumin for a while. Check this out: Vedic Healing.
I'm not even going begin on my love for onions and garlic and how good they are for you. I'll save that for another day. I use them is so many recipes, it's just part of my seasoning. Now let's get to business and find out how to make these lentils…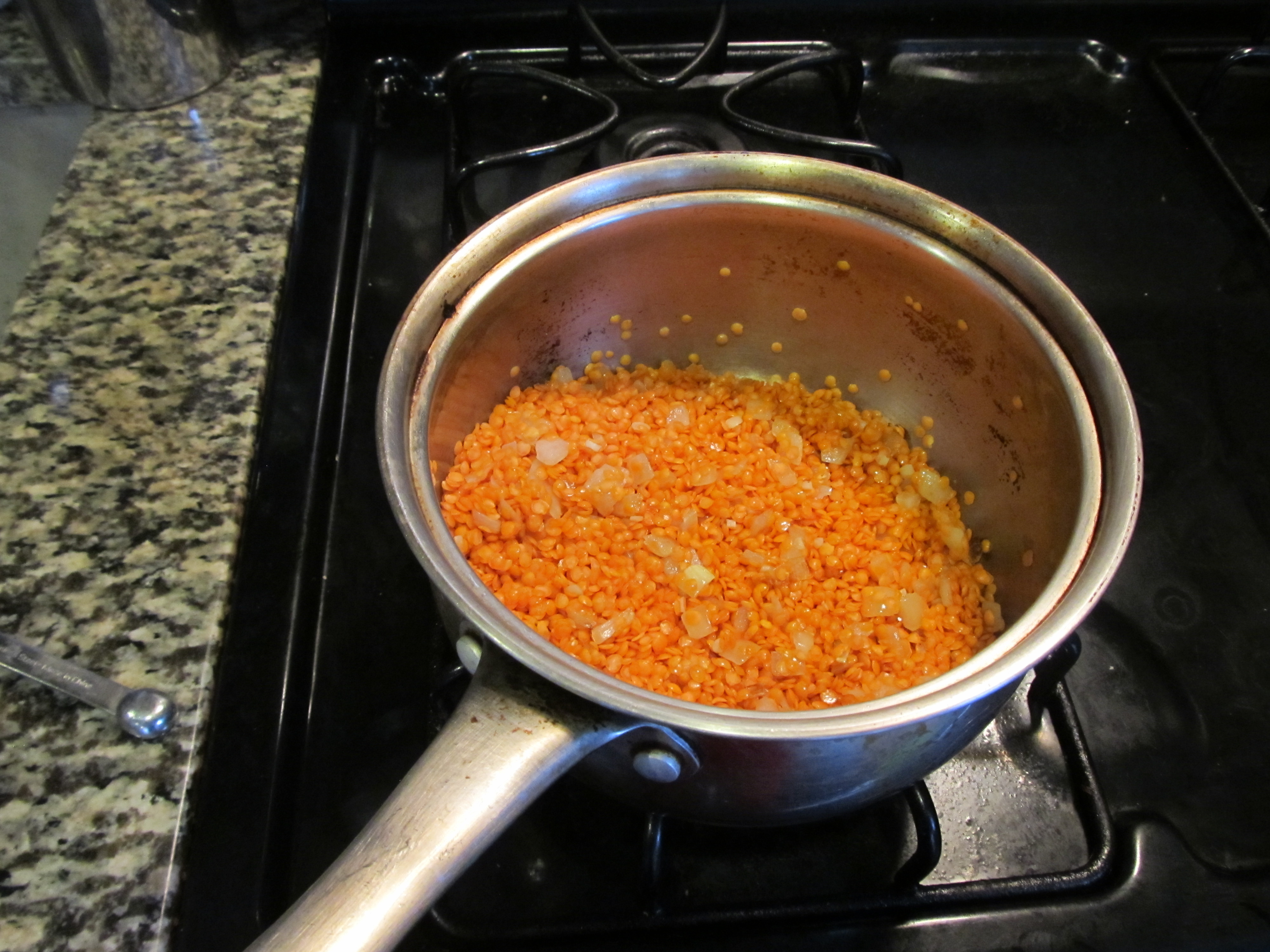 Directions
1. Place a small pot on medium high heat and add one teaspoon of ghee.
2. Once the ghee melts and is hot, add half of the minced small onions and sweat for a few minutes, until the onions are translucent.
3. Add the garlic and sweat for about 1 minute, until your start to smell the garlic.
4. Add the turmeric to the ghee, onions and garlic. Let toast for about 30 seconds, stirring as not to burn anything.
5. Add lentils, stir.
6. Add water and bring to a boil. Once it starts boiling, reduce heat to a gentle simmer and cook for about 10-15 minutes until the lentils are soft, most of the liquid is absorbed and the consistency starts to thicken.
7.Once the lentils are cooked, remove from heat and set aside.
Seasoning
8. In a separate smaller pot, add the remaining 3 teaspoons of ghee.
9. Over medium high heat, melt the ghee. Hold the pot on its side, positioning the pot so all the oil is the corner of the pot. See image below.
10. Sweat the rest of the minced onions until translucent, and then add the garlic and cumin seeds. You might hear a little popping noise so do not be alarmed.
11. You know the mixture is finished when the garlic starts to brown around the edges. Be careful here, because this is the stage when the garlic can burn easily if you are not careful. Therefore, it is perfectly okay to give it a stir once in a while.
12. As soon as the mixture is finished, add it to the cooked lentils and stir it in until it is evenly distributed. Do not keep the toasted seasonings in the pan they were toasted in, as the pan is hot and the seasonings will continue to brown and burn.
13. Finish seasoning the lentils with Himalayan pink salt to taste.
14. Add chopped scallions as a garnish when serving, if desired.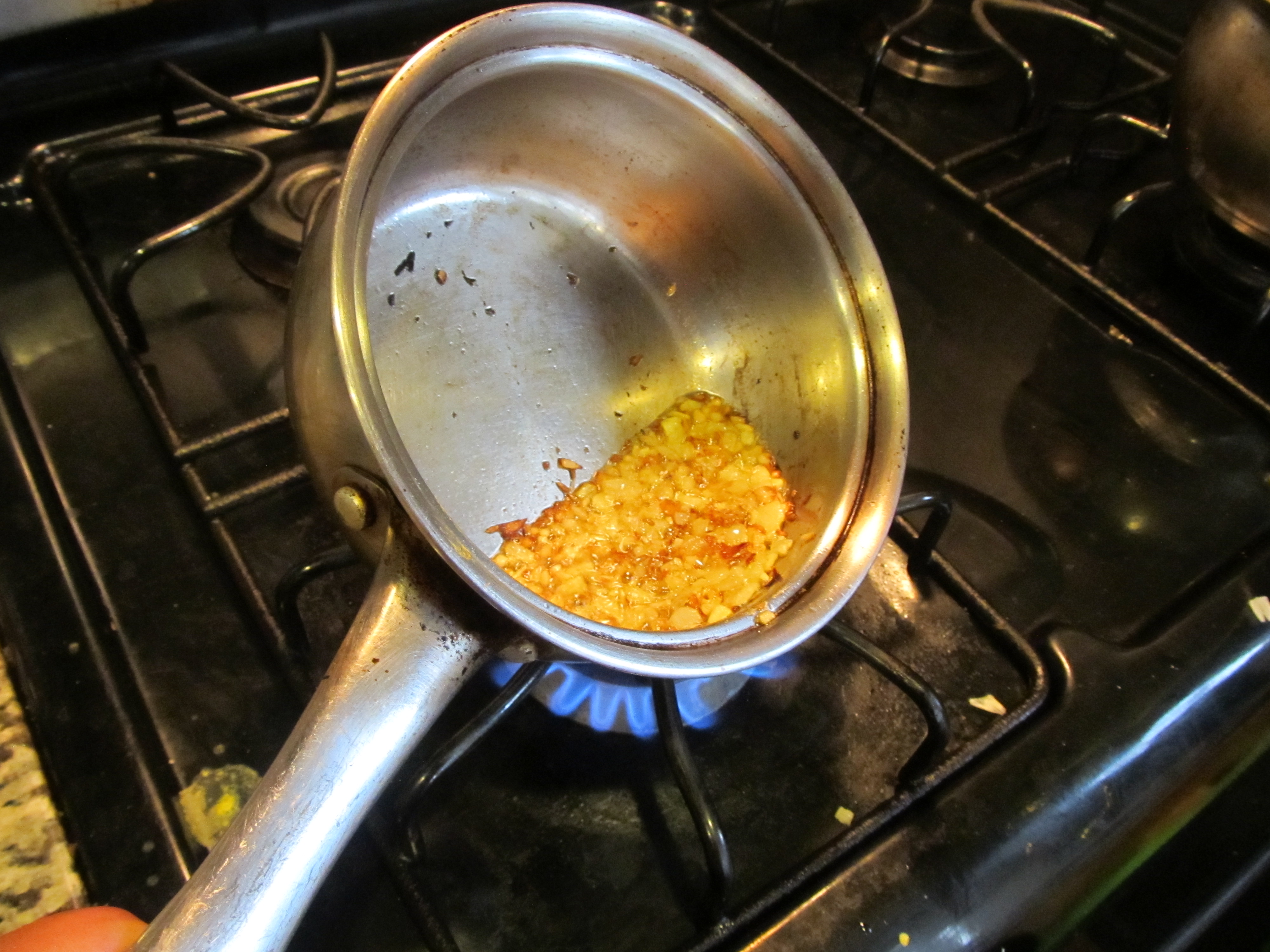 How to hold the pot when toasting the onions, garlic and cumin for the seasoning. Place it on it's side, tilting one side of the pot down towards the flame. It should not be so far tilted that the ingredients in the pot are spilling out, over the side.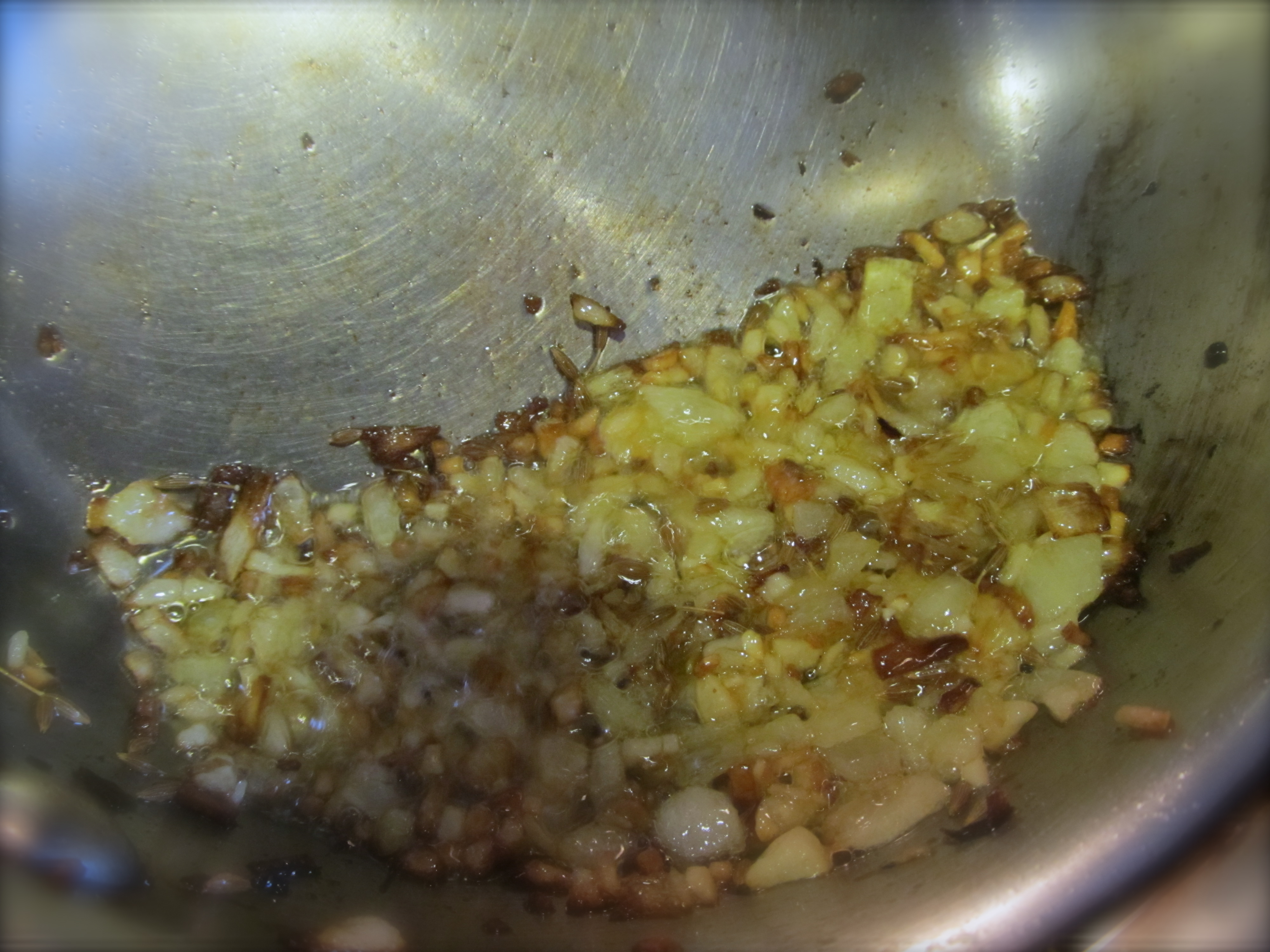 What the seasoning mixture of onions, garlic and cumin seed should look like when its finished. Once it's done, immediately add it to the lentils, as not to burn the toasted seasonings.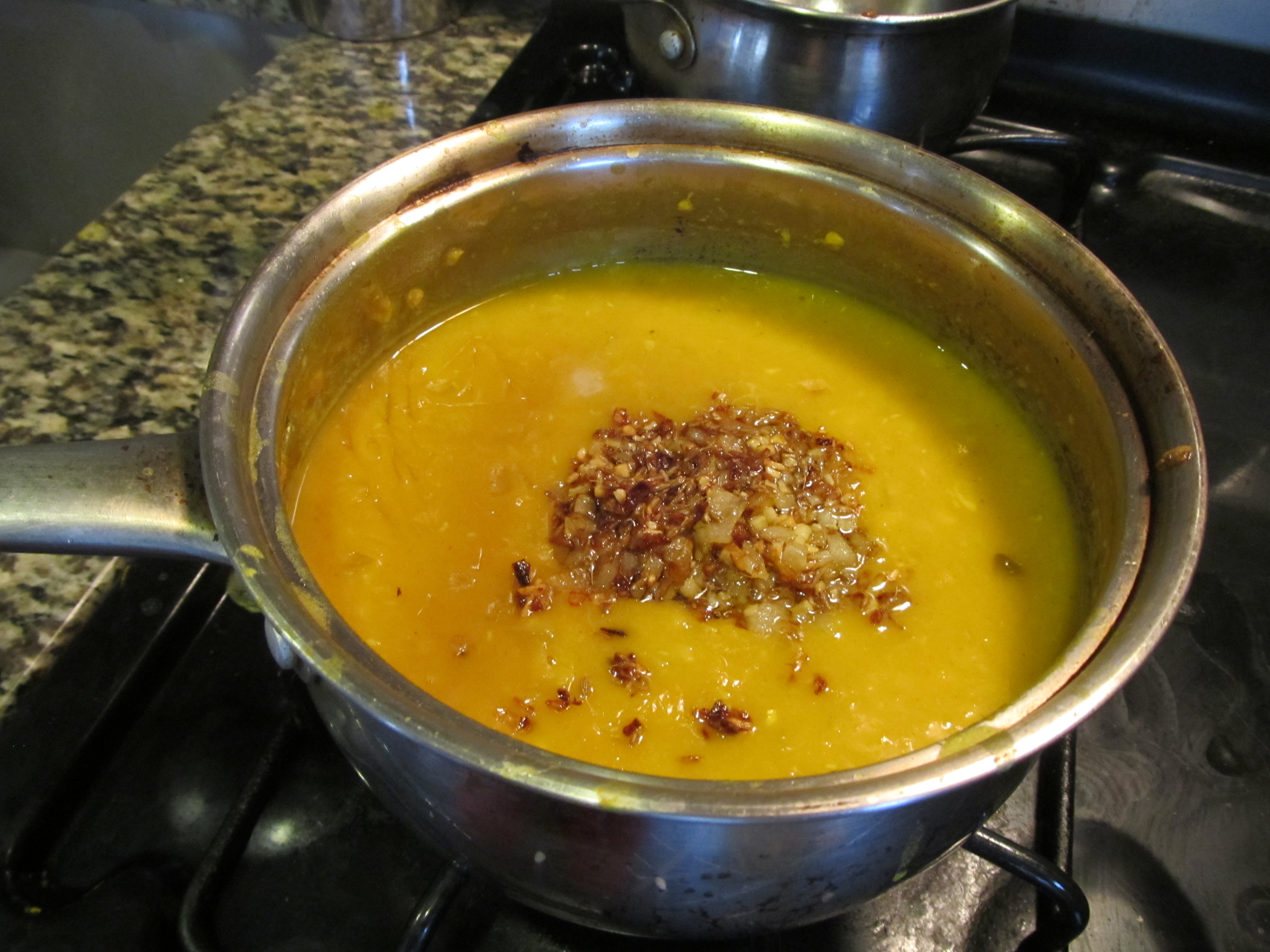 The toasted cumin seeds, garlic and onions are added to the cooked lentils and stirred in. Season to taste with Himalayan pink salt. Serve and enjoy!