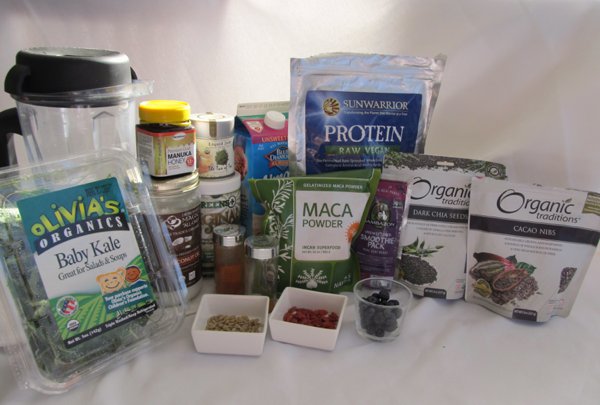 Breakfast the most important meal of the day. So should't we start  the day off right, with a meal that is going to give us energy. This smoothie will not only give you energy but jump starts your brain and loads you up with antioxidants. I also I have included some information about a few of the ingredients below. The recipe itself can be found all the way at the bottom. You may look at this picture and say to yourself, "Wow these are a lot of ingredients." But once you get in the routine of making it, you will no longer need to measure everything out. It really is quick to make and the blender does the work no need for pots, pans, an oven, or a stove-top in the morning.
In the words of lovely Erika, who shared this recipe with me," Once you start adding this to your diet, you will wonder how you ever lived without it!" Thank you for sharing this with me, I'm ready to seize the day with this smoothie!
Jump Start Your Brain
Spinach, turmeric, cocoa nibs, berries are terrific foods for feeding the brain in the morning. Many of these foods help with blood circulation. Dark leafy vegetables are also great for your memory and are high in folate which help protect to brain. Research has even show that dark leafy greens can help slow the age related decline in brain health. Sunflower seeds are not only a great source of vitamin E but help improve memory. Hence this small addition to your daily smoothie.
Maca Powder
Maca Powder  is the natural energy supplement. It was used by the Incas because this root grew in the Andean Mountains. I use the gelatinized and NOT the raw. Traditionally and even to this day if you go down to Peru, it is cooked first (gelatinized). Some people have even claimed to have digestive issues when they eat raw maca powder. I say when it Rome do as the Romans, so do like the Incas and buy the gelatinized maca. Unlike other products that give you energy, like caffein, it does not give you the jitters or make you crash. It also helps with the following: balance hormonal levels, increase sperm count, menstrual issues and infertility. This however is not one of those products where more is better for you. If you take too much you will most likely end up with hot flashes, therefore you should start small. Start off with 1/3 teaspoon and work your way up to 1/2 teaspoon.
Looking Lower Your Cholesterol?
Almonds and nuts are a great way to lower your cholesterol. Coconut oil still has some controversy over wether or not it is healthy for you, but in many studies it has show to increase HDL, the good cholesterol.  I personally add coconut oil in my smoothie about every other day.
Other additions to the smoothie that can be made for those worried about cholesterol levels include: oats, fish oil, pears, and olive oil. Fiber in general is a great way to lower cholesterol. To reduce the absorption of  cholesterol into your bloodstream, try finding foods that are high in soluble fiber. The Mayo Clinic has a page that is devoted to food and cholesterol. Check it out here.
Yield: 1 16-oz smoothie
Ingredients
10-fl oz. unsweetened almond milk or hemp milk
1 scoop of vegan protein powered (or protein powder of your choice)
1 scoop Greens+ Original Superfood
1 tablespoon goji berries
1 teaspoon cocoa nibs
1 teaspoon sunflower seeds
1/2 teaspoon matcha powder (green tea powder)
1/8 teaspoon turmeric
1/3-1/2 teaspoon maca powder
dash of cayenne pepper
1/2-1 teaspoon coconut oil
1 teaspoon Manuka honey
3-5 almonds
a handful of spinach or kale
1/2 packet of acai berry smoothie pack (frozen)
1/3 cup of fresh or frozen berries