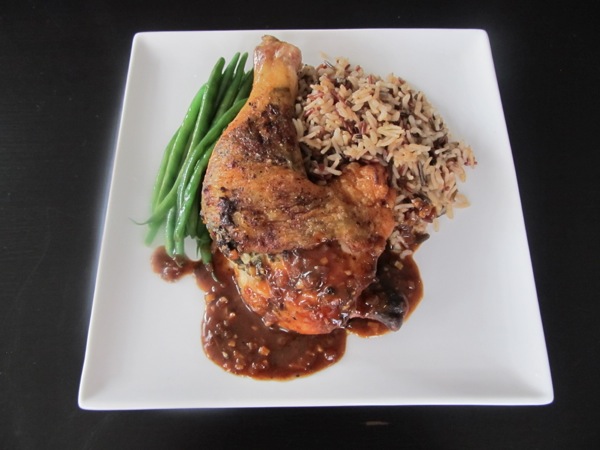 This recipe in particular is designed to make dinner for two simple, cheap and easy. It is also pure comfort food. Sometimes you just want something that is simple, delicious, and easy to make; and this chicken is precisely that!  It not only taste good, but makes the house house smell amazing. A great way to making friends, or if you live in a New York City apartment, enemies in your building via this heavenly smell sweeping through the hallways. You would hate to be a passerby, smell the herbs and garlic infusing into the chicken and not be able to partake in this meal.
Quite often I use compound butter on whole chickens, and roast them. Compound who? Some of you just asked yourself what compound butter is, just continue reading below. It's a lot easier than it sounds. My mother even loves making compound butter! I showed her how to do this and soon enough everyone in my family was doing it. They somehow ended up naming it "Danielle's Chicken." I only wish I could take the credit for creating compound butter and slathering it under the skin of a chicken, but I know that glory goes to the French. Nonetheless I was flattered.
What is compound butter?
Compound butter is butter that has various components added to it, as to impart flavor. You can add herbs, spices and other aromatics to give the butter a unique flavor.  It is best stored in plastic wrap or parchment. You can roll it into a log, chill it and then slice off pieces as needed. Having a block of homemade compound butter in your refrigerator or freezer you can spruce up any dish. Compound butters are great for chicken, fish and steak. You can even try adding some citrus zest to your compound butter. The addition of lemon or orange zest is delicious, especially when used on fish. Feeling fancy? Add some white or black truffle to the butter.
I have a simple recipe for compound butter below. The compound butter recipe makes just enough for this chicken dish. You can always double, triple, etc. this recipe and then put the rest in your freezer. And since you are the one making it, you can add or leave out whatever you so desire.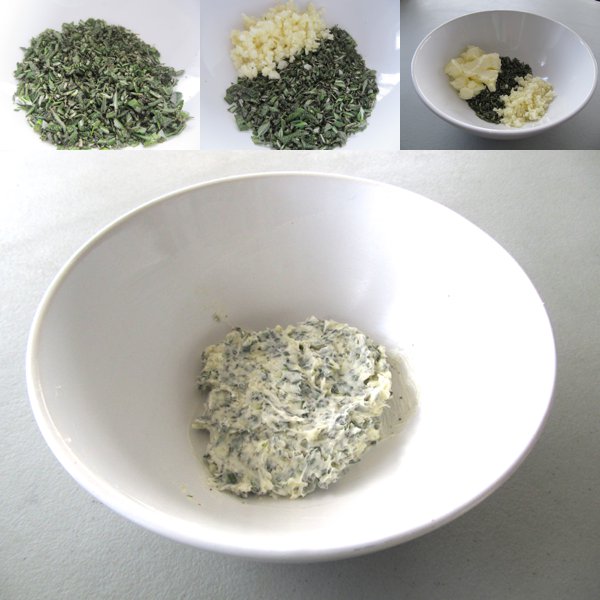 Garlic & Herb Chicken with White Wine Jus
Yield: 2 Servings
Ingredients:
2 chicken hindquarters (leg & thigh attached)
1 tablespoon olive oil
salt and pepper to taste
compound butter
3 tablespoons softened butter
1 tablespoon chopped rosemary
2 teaspoon chopped sage
1 teaspoon chopped thyme
2 large cloves garlic, minced
½ teaspoon black pepper
¼ teaspoon salt
chicken jus
1 tablespoon minced shallots
1 clove chopped garlic
2 tablespoons dry white wine
½ cup plus 2 teaspoons chicken
stock
½ teaspoon cornstarch
Instructions:
1. Preheat the oven to 425 degrees and make sure the rack is in the middle on the oven.
2.  Make Compound butter: Add chopped herbs, garlic, salt and pepper to softened butter and mix thoroughly.
3. With a spoon place soft compound butter under the skin of the chicken.  Help spread the compound butter around evenly with your fingers, by rubbing the skin and evenly smoothing the butter out. Then season the skin of the chicken with salt and pepper.
4. Place a cast iron skillet on high heat. Once it is hot, add the olive oil and lower heat to medium high.
5. Place the chicken in the pan. Sear the skin until it is golden brown and then flip it.
6. Remove excess oil and place in the oven until cooked all the way through, about 15- 20 minutes.

Pulling the skin away so I can easily slide the compound butter underneath.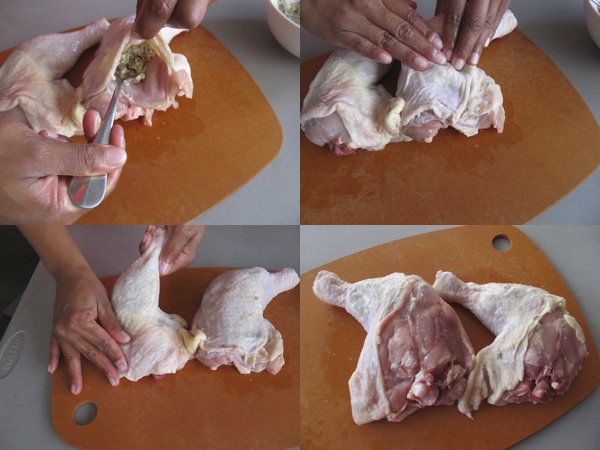 Be sure to push the butter around so it is evenly disbursed under the skin. And don't forget to turn it over and place compound butter under the skin on all sides.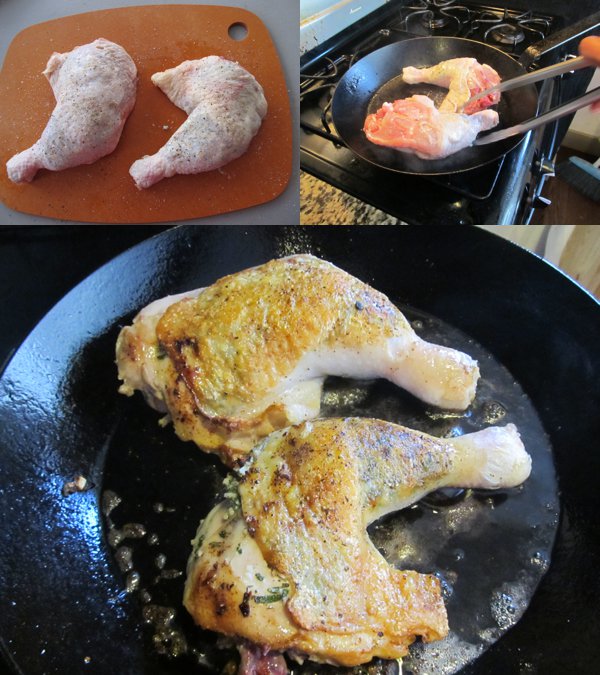 Season the chicken and sear the chicken in a HOT pan with oil. To get a good sear, the pan has to be hot before adding the chicken.
7. Once chicken is cooked, remove from the oven. Take chicken out of the pan and set aside in a warm area. Pour off excess oil in the cast iron skillet. You will make the jus in the skillet.
8. Mix cornstarch with 2 teaspoons chicken stock set aside.
9. Leave enough oil, about 1 teaspoon, in the skillet. Place on stove top, turn heat to medium high.
10. Sautéed the shallots until translucent. Add garlic and sauté for about 30 seconds.   Do not to burn. Lower heat or remove from heat.
11. Deglaze the pan with white wine, scraping the pan with a wooden spoon.
12. Add ½ cup chicken stock, bring to a simmer and add cornstarch mixture. It will thicken when it hits the hot pan.
13. Serve the jus over the chicken with the jus. If you want to keep the skin nice and crispy do not pour directly over the skin.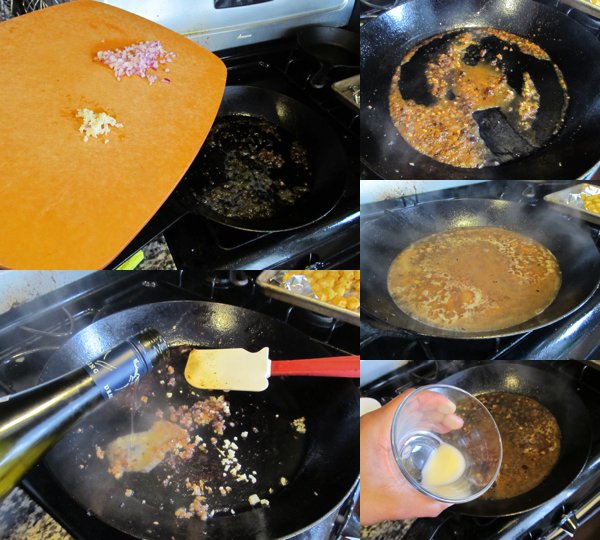 Variations
Try adding lemon zest and crush chili flakes to the the compound butter.
Do you love bacon? Try rendering some bacon or lardons in the pan before you make the jus. Remove excess oil/fat then add the shallots and garlic and proceed from step 10.
Give the jus a creamy finish by adding 2 tablespoons of heavy cream at the end. Season with salt and pepper to taste.