Yield: 8, 4" x 5" waffles
Ingredients
1 cup all-purpose flour (or all-purpose gluten-free flour)
1/2 cup old fashioned oats
1 tablespoon chia seeds
1 tablespoon baking powder
1/2 teaspoon salt
1 tablespoon agave (or white sugar)
1 1/4 cup milk (or almond milk)
1 egg
3 tablespoons butter, melted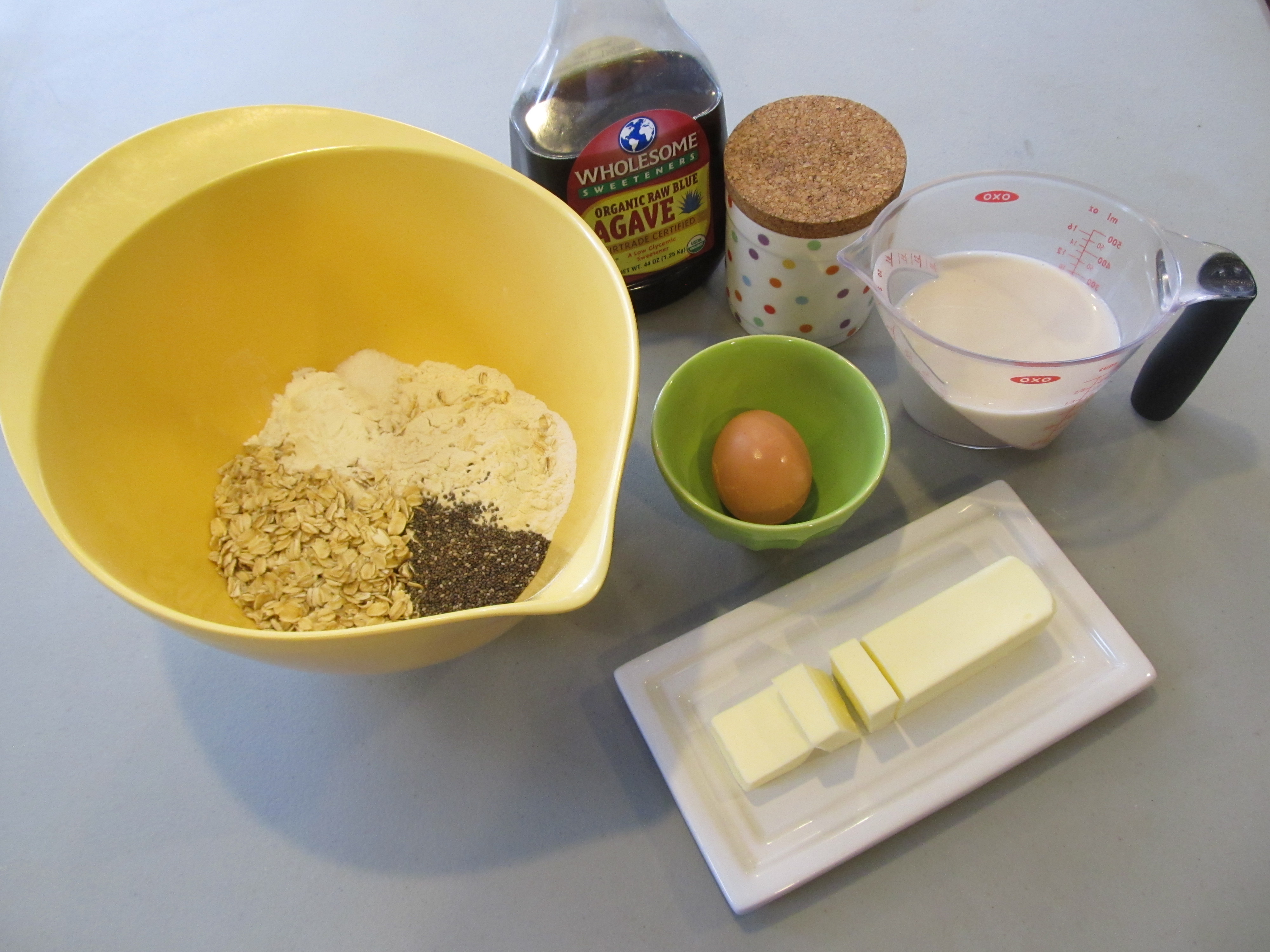 Why I love This Recipe
I have always loved eating pancakes and waffles in the morning, but I wanted something that was healthier than the old-fashioned pancakes/waffle mix. Henceforth, I got to thinking about what I could add to make them better for you. Chia seeds of course! It's an amazing superfood, known as runner's food, because it is loaded with omega-3's, antioxidants, and calcium just to name a few. There is even protein in chia seeds. Roughly 2 tablespoons contains 4 grams of protein and 11 grams of fiber. I even love putting chia seed in my juice just to add a boost to my day!
But back to the waffles at hand…I decided to add oats as well because they aide in heart health. Oats help lower cholesterol, and since its a whole grain, is another good source of fiber.
I love making this simple waffle and pancake batter the night before. When I do it this way the chia seeds and oats absorb the liquid in the batter, thus making them softer. You then might ask, "Danielle, what do I do if the batter is really thick in the morning?" Simple, just add a little more milk to loosen it up and voila… in the iron they go.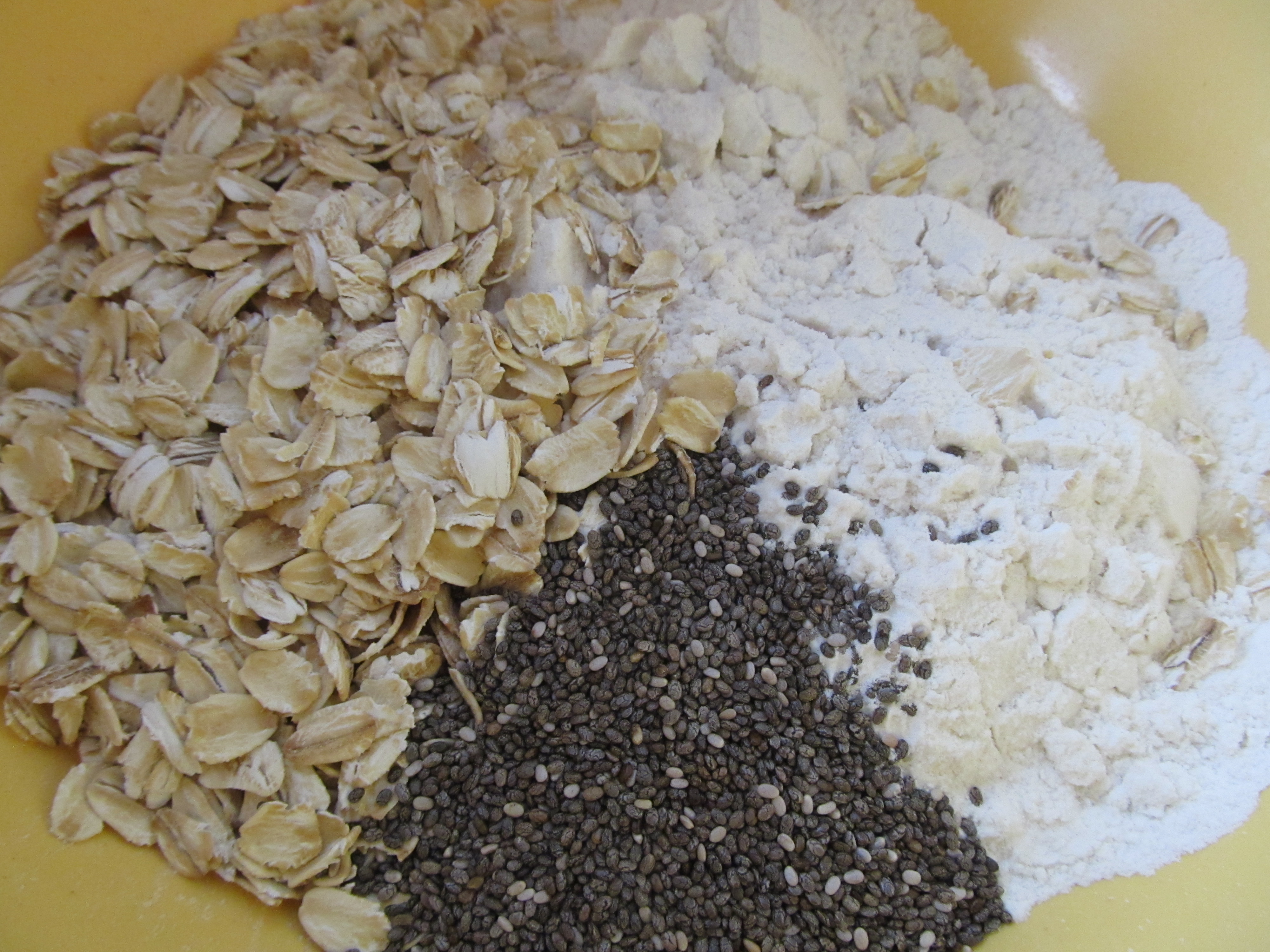 Directions
1. Place all dry ingredients in a large bowl.
2. In a separate bowl, mix together wet ingredients: agave, milk, egg and melted butter.
3. Add wet ingredients to the dry mix, stir until all ingredients are incorporated. If there are a few lumps of  flour in the batter, its okay, you can leave it.
4. Let the batter sit for at least 15 minutes so the chia seeds start to absorb some of the liquid. This batter is even better when made the night before.
5. Heat waffle iron according to instructions and pour batter into hot waffle iron.
6. Serve hot with maple syrup, honey or jam. Enjoy!

Variations
Gluten Free Oatmeal & Chia Seed Waffles/ Pancakes
This recipe can be done gluten-free and dairy free. Instead of using all purpose flour try using a gluten free flour mix. If you do not want to make your own, one of my favorites is Pamela's All Natural Baking and Pancake Mix. When using this mix, there is no need to add baking powder. This mix however, does contain almonds and cultured buttermilk powder.
To make sure it is dairy free, use almond, rice, soy or any non dairy milk you so desire. As for replacing the butter? Use vegetable oil, almond oil or walnut oil to give it a nutty taste.
Berry Oatmeal & Chia Seed Waffles/ Pancakes
Try adding fresh or frozen blueberries, strawberries, or raspberries to the recipe to add to your antioxidants for the day.